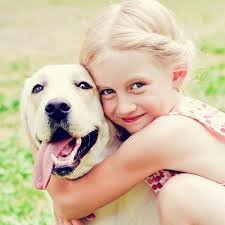 While it's no secret that many kids are thrilled at the prospect of owning a pet for the sheer fun-factor, it has actually been scientifically proven how great of an addition it can be for the development of a child. Not only in mental or social aspects, either: it is said that the simple act of walking a dog can "provide an impetus for running and practicing motor skills", according to Sheryl Dickstein, Ph.D., Director of Humane Education for the ASPCA.
So to help all kids in the process of pleading and convincing their parents for a pet, we've compiled a list of the 7 most important/significant positives it can bring:
1. It will teach your children about responsibility. This is kind of a no brainer: the care and attention a pet requires (daily feeding, grooming, walking, etc.) helps a child to develop a sense of nurture for another living being early on in life.
2. They can be therapeutic: talking to/relying on an animal can be helpful to a child, and due to the special bond of pet/owner, they can fill a role of comforter.
3. Showing an interest in animal knowledge can lead to better cognitive development/inform them about a possible career interest later in life.
4. Pets can provide valuable lessons about life: birth, death, reproduction, illness, accidents, etc. It can teach them about the loss of life in an appropriate, healthy way.
5. Their love: comfort contact is another factor scientifically proven to boost one's health and mental state. The love, loyalty, and affection a pet can afford their owner are beneficial to their general overall happiness.
6. Overcoming a fear of animals: owning a pet can provide much needed exposure to those who may be frightened of unknown animals, which will stay with them the rest of their lives, providing also a stronger connection to nature.
7. A good pet/owner relationship will help establish a sense of empathy, compassion, and a stronger sense of communication, teaching them about non-verbal cues.
Of course, before committing it is important to choose a pet that is right for your particular family, home, and lifestyle. Weigh the pros and cons and consider which traits/values would work best around your developing child. For veterinarian help with your beloved pet, ParkGate Animal and Bird Hospital in North Van can answer any questions you may have!
sources:
https://www.aacap.org/AACAP/Families_and_Youth/Facts_for_Families/FFF-Guide/Pets-And-Children-075.aspx
http://www.easternflorida.edu/community-resources/child-development-centers/parent-resource-library/documents/family-pets.pdf
Pet Ownership Positively Affects Your Kids in More Ways Than One