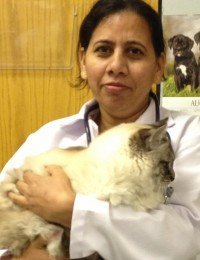 Mandy Simk, DVM
Dr. Mandy Simk is the proud owner of the Park Gate Animal & Bird Hospital as of November 2013, and is a long time resident of North Vancouver. She is very happy to meet all the new clients that live in the Deep Cove area, and strives to provide the best health care possible to her patients.
Dr. Simk graduated in 1999 with a Bachelor of Veterinary Science and Animal Husbandry. She continued her education at Ontario Veterinary College – University of Guelph, and also completed an externship program at the Kansas Humane Society in Kansas, USA. She has worked at many practices in Metro Vancouver, Kelowna, as well as in Ontario. Dr Simk always strives to achieve excellence in Veterinary medicine, and has keen interest in updating her knowledge and skills through continuing education, seminars, and workshops.
On her days off, she enjoys spending time with her two daughters, and also enjoys cooking and gardening. As well, she loves spending time with her puppy Chevy, who loves his new home. Going forward, Dr. Simk would like to see her practice grow by focusing on high quality services provided by committed and experienced veterinary support staff.