An often overlooked yet important indicator of your pet's health is the quality of their skin and coat. Dry, brittle fur, itchy or flaky skin, and other unwanted irritations almost always boil down to three root causes: a poor diet, a need for supplementation, and lack of proper grooming.
If your pet appears to suffer from skin and coat problems, the solution can be found by following three simple steps.
Proper Diet
As with many health-related issues, the solution is often found in the correct diet. Think of your pet's body as a machine. If you provide the body with the wrong fuel, problems are bound to arise. Provide the body with the right fuel, and the machine will show sustained peak performance for a very long time.
Proper diet and nutrition is the most important step towards a healthier skin and coat. Many low-quality pet foods contain undesirable ingredients that may not provide the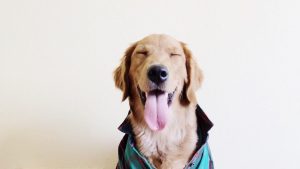 body with the nutrition it needs to maintain a healthy skin and coat, among other things.
By feeding a diet consisting of wholesome, biologically appropriate human-grade ingredients, you can ensure your pet has the fuel they need for optimal skin and coat, and a healthier quality of life overall.
Supplementation
While a complete and well-balanced diet should provide all the nutrition a pet needs, many may require supplementation for that extra boost. For pets needing help improving their skin and coat, adding the right supplement to their diet will turn dull, dry fur into a shimmering coat to be proud of.
Fish oils are among the most popular supplements for skin and coat health. Most commonly found in liquid form, these supplements contain essential Omega-3 & 6 Fatty Acids that improve the health of skin and fur, and reduce shedding. At the same time, fish oils have many other health benefits, like improved immune system and joint health. Consider brands like Alaskan Naturals, Bonnie & Clyde, and Grizzly oils for pets.
Zinc is one of the most important minerals for maintaining a healthy body. Without enough zinc, your pet cannot properly reproduce dead cells in skin, coat, nails and foot-pads. Most commonly found in powder form, adding a zinc supplement to your pet's diet will go a long way towards improving skin and coat health. Consider brands like Zinpro.
Sprouted seeds are among the most nutritionally packed foods on Earth. These nutritional powerhouses contain massive amounts of vitamins, minerals, enzymes, and probiotics. Sprouted seeds offer a litany of health benefits to our pets, especially when it comes to digestive/gut health, and skin and coat quality. Consider brands like Flora4.
Grooming
All pets have different grooming requirements depending on their species, breed, and lifestyle. Grooming your pet regularly with the right tools will go a long way towards identifying potential skin and coat problems.
First, it all begins with the right shampoo. It is not advisable to use human shampoos on our pets as they are specifically designed to wash human hair, not pet fur – big difference! Many human shampoos have detergents and other ingredients intended to strip oils from hair. Our pets require these oils in their coat, so removing those oils will only worsen a dry coat. For dogs with dry or sensitive skin, using an oatmeal-based, hypoallergenic shampoo is ideal as it is extra gentle. Consider brands like Earthbath.
Next, using the correct brushes and combs make all the difference – just ask any pet groomer. By using proper grooming equipment, you will be able to safely remove dead fur and matting that may be present. It is best to speak with your groomer or your pet health professional about which grooming tools are best suited to your specific pet.
By following these three simple steps, you are guaranteed to not only improve your pet's skin and coat quality, but their overall health as well. Talk to a pet nutrition expert if you have concerns about your pet's skin and coat health.
Written by Brandon Forder – at Pet Connection.