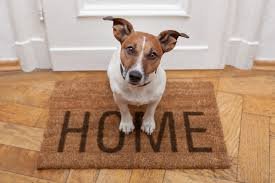 Adopting a new pet comes with a lot of change, for both the pet and pet parent. Here are some thing to consider to help make the transition easier!
Questions to ask yourself before you adopt:
-Do you have any other pets? How will they react to a new pet?
-Do you live in a place suitable for the animal your looking to adopt?
-Will any prior obligations affect your ability to care for your pet?
-Do you have a plan for your pet when you work, travel or are not around?
-If you live with other people, how do they feel about having a pet live with them? Do they have any health issues that may be affected by your pet? (allergies)
-What bread, and/or species of animal is the best fit for your current lifestyle?
-Is there an adult who has agreed to be ultimately responsible for the pets care?
-Is there tension in your household? Animals pick up on stress, and it can exacerbate their health and behavior problems.
-What do you expect your pet to contribute to your life? For example, do you want a running partner? Or would you rather watch sports on TV?
-If you are thinking of adopting a young animal, do you have the time and patience to work with your pet? Consider potty training, energy level and teething.
-Consider your lifestyle carefully and determine whether a younger or older animal would be a better match for you.
-Can you handle an animal with behavior issues or are you looking for a relaxed pet?
-Would you like a pet that follows you all over the house? Or less clingy more independent?
-Consider the size of animal you would like to adopt, what can your home accommodate? Will you have enough space if they grow bigger than expected? Do you have any other pets to consider when thinking about the size of your new pet?
-How big of a pet can you travel with comfortably?
Pet Costs:
-Likely, when you adopt from an adoption agency they will charge you a fee. They may also require you to pay for your pet to be spayed or neutered before bringing them home. These initial fees are a tiny fraction of the money you will spend over your pets lifetime.
-Some expenses are mandatory for all pets, including: food, routine veterinary care, basic grooming tools, licensing depending on your local regulations, collars, bed, leashes and ID tags. It is extremely important to consider whether or not these basic expenses will be too much for you.
-There are also unexpected costs. For example, accidents and illness can lead to costly emergency veterinary care. Pets with special physical and behavioral challenges may require specialized professional support.
Time Considerations:
-Pets need to be fed 2-3 times daily, more often for puppies, and need a constant supply of fresh water.
-Find out what food your animal has been eating while they were in a shelter or foster care so that you can provide them with the same food in the beginning, to ease the transition. After the pet has settled in, talk with your veterinarian about switching to the food of your choice.
-A responsible pet parent should spend at least one hour per day giving direct attention to his or her pet. This may include training, grooming, exercising and play or even lap time on the couch. Dogs need to be taken outside several times a day.
-A pet with an abundance of energy needs more time to exercise and interactive toys to keep them entertained.
It is also important to remember adopted pets may need additional bonding and reassurance time in the first few weeks!
https://www.petfinder.com/pet-adoption/dog-adoption/pet-adoption-checklist/