With summer officially started we tend to find wildlife during our daily outings. Wondering if they need your help?
Here's some tips on determining whether an animal needs your help:
– an adult animal that can be captured easily
– seriously favouring a leg or wing
– sitting on the road, not moving for traffic
– bleeding
– having difficulty breathing or convulsing
– a bird sitting with its feathers puffed and not moving for long periods
– a bird running on the ground when others fly away
In most cases, LEAVE BABY ANIMALS ALONE! They only need help if they appear to be dehydrated or emaciate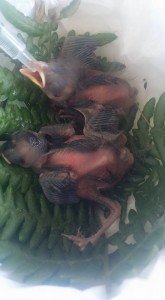 d, have sunken eyes and dull coat, or are listless or injured.
After careful observation, if you believe that the animal is in need of help call the closest wildlife rehabilitation facility BEFORE you attempt to capture it.
WILDLIFE RESCUE ASSOCIATION OF BC (in Burnaby, BC) – 604-526-7275
]